AUCKLAND, NEW ZEALAND

The America's Cup is the pinnacle of sailing. The oldest trophy in international sport is bringing the thrill and vibrancy back to Auckland's waterfront in 2021 after Emirates Team New Zealand won the Cup in Bermuda in 2017.
Catalano Shipping NZ is the aligned Yacht Agency with the country's most prestigious yacht club, Royal New Zealand Yacht Squadron (RNZYS), home for America's Cup. We directly support their clientele, offer full logistical support and provide any help to visiting superyachts. Expressions of Interest for marina berths for the AC36 season are closed. If you're coming to New Zealand, get in touch with our offices.
2021 MASTERCARD SUPERYACHT REGATTA, Auckland 23-26 February 2021
One of the major regattas planned by Royal New Zealand Yacht Squadron – it will be held within days of the start of the defence of the America's Cup. Please find key information here. To enter complete the Entry Form.
Auckland is getting ready to stage a successful event and defence of the Cup, with some exciting racing, a great village atmosphere, and the opportunity to display New Zealand to the world. All Match races will take place as close as possible to shore, enabling spectators to experience the passion of the racing from on the water or from onshore at vantage points of Auckland.
The City of Sails is reshaping for 2021. See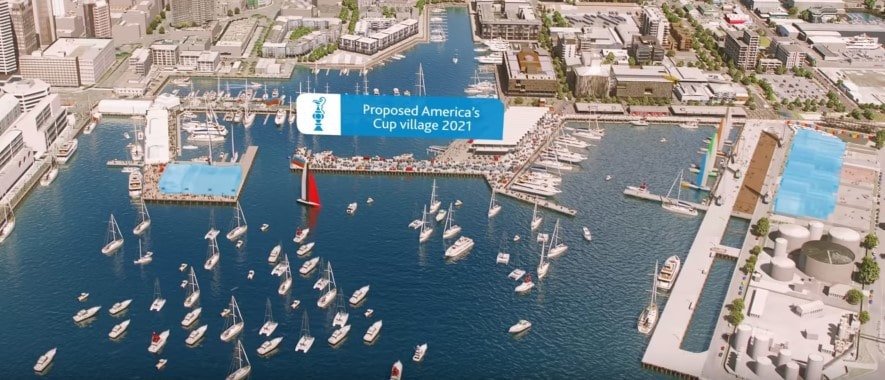 AC36 will be raced in unprecedented proximity to the land! The geography of Auckland and its beautiful harbour allows a superb close-up view of the on-the-water action.
Along with the proximity to the public, consideration has been given to minimising race day cancellations due to the weather. The location offers a plethora of race course options in the full range of wind directions and conditions.
The event aims to be the most inclusive and spectator friendly America's Cup ever. Please check this video to get a feeling of the AC36 Race Course in Auckland area.
Four teams have committed to challenge for the America's Cup in Auckland in 2021:
The defender, Emirates Team New Zealand , which represent Royal New Zealand Yacht Squadron, will not compete in the challenger series. The team will race the winner of the PRADA Cup in a best of 13 America's Cup Match race series (first to seven points).